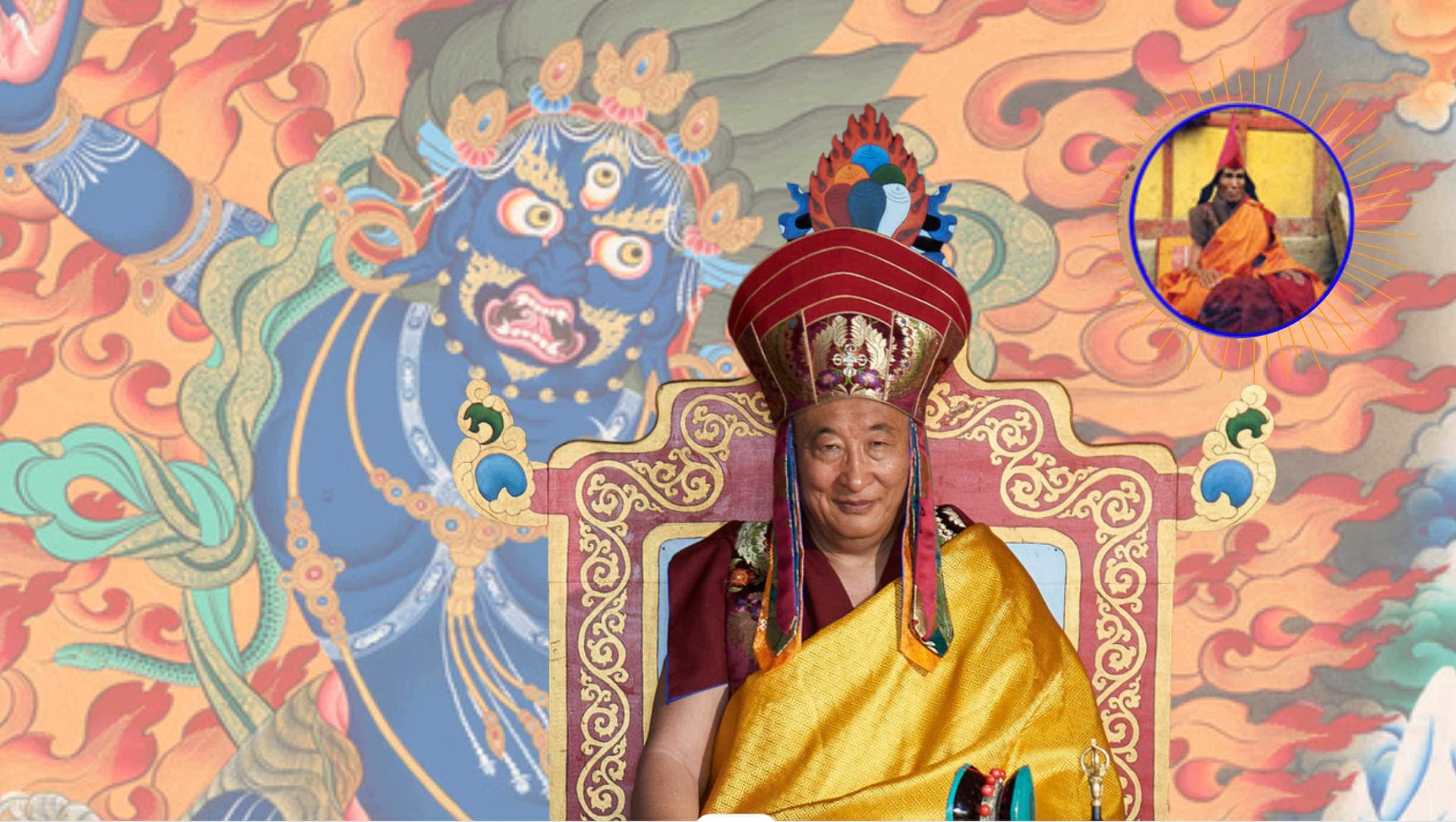 Online or In-Person: Vajrapani Empowerment and Retreat with Khentrul Rinpoche
The Empowerment is on Saturday June 4th. Translation is available for the weekend but is to be determined for the retreat.

VAJRAPANI: Tame Your Demons
Tap into the power of all the Buddhas to tame your internal and external obstacles to realization. Vajrapani, the embodiment of the power of all the Buddhas of the ten directions and the three times is a fearless Bodhisattva of the tenth level and the guardian of the Buddhist tantras.
Khentrul Rinpoche will bestow a very special empowerment of Vajrapani known as the Demon Destroyer and the practice that Lama Lutrin used in the retreat in which he cured himself of Leprosy. This empowerment and retreat will help practitioners embrace their fierce power within to tame their obstacles on their path.
KHENTRUL RINPOCHE PERSONAL CONNECTION WITH VAJRAPANI
"For me Vajrapani is personally special because my root lama, Lama Lobsang Trinley, was considered as the actual Vajrapani. When he practiced it, he could completely heal his leprosy during a long solitary retreat. At the end of his retreat he achieved the same realization of the great Indian mahasiddhas.
My root Lama's teachings on Vajrapani were incredibly special. As many high Lamas came to our monastery in order to receive the Vajrapani empowerment from him, I could receive it many times. All these Lamas who came had no doubt about his realization. They said that he himself was the actual Vaprapani, as they were witnessing my Lama taming incredibly powerful demons who wish to bring harm to our regions."
This practice has a very special connection to our institute as the Shambhala King Suchandra, who requested the Buddha the Kalachakra Tantra Teachings and established these teachings in Shambhala, was an emanation of Vajrapani.
INCLUDED IN THE RETREAT
Vajrapani Empowerment (Jenang), Oral transmission of the practice, a preliminary teaching, practice sessions and a Q&A session. The practice sessions will be guided by his senior students.
WHO IS THIS FOR or HOW TO PREPARE MYSELF?
There are no prerequisites at all. It is suitable for all levels of practitioners. Previous Buddhist study and practice are helpful but not mandatory. If you are new to the buddhist path, you may also like to study Khentrul Rinpoche's "What's Real?" course from our learning center and to read Rinpoche's books "Unveiling Your Sacred Truth" — Books 1 and 2. For knowing more about Rinpoche's root Lama's biography and his connection with Vajrapani, you can find more information in the book "The Realm of Shambhala" where Rinpoche wrote about the whole Kalachakra lineage he holds.
Tenative Schedule
3rd June Friday afternoon: 2pm or later Arrival of in-person participants
3rd June, Friday Evening – Introductory Public Teaching: Vajrapani, my root Lama & the Shambhala King Suchandra
4th Saturday: Vajrapani Empowerment with Rinpoche
4th – 7th: Vajrapani Practice Retreat with senior students + Q&A with Rinpoche
8th In-person participants leave Kalapa after breakfast
VAJRAPANI FOR KALACHAKRA STUDENTS
Rinpoche says that we do not necessarily need to practice Vajrapani separately, we just need to build a connection. Then, recollecting him, you can integrate it within your own practice, for example within the Kalachakra Path. You can either practice Vajrapani as your main practice and see it as non-contradictory with the Kalachakra Path, or you can focus on the Kalachakra system without seeing the separation from Vajrapani, as he is even included in the Kalachakra mandala.
HOW THE ONLINE EMPOWERMENT WILL WORK
1) Register for each attendee that will be receiving the empowerment. You will be added to the course on learn.dzokden.org
2) You must receive the empowerment online in real-time. We do not record the empowerments. Before the empowerment, you will receive information on some simple supplies you should get to help make the experience as authentic as possible. If you are not able to get them all don't worry. They are symbolic and you can still receive the empowerment. More important you must understand what is happening. Just attending an empowerment does not mean you receive it. You must know what is going on. To ensure everyone will receive the empowerment, Rinpoche will kindly make his instruction booklet available to you as an eBook so you can follow along so you know exactly what is happening. You are not allowed to share this program book with anyone else or give them access to the empowerment. This is private for your personal use. Rinpoche typically gives the eBook out the night before but if this is a technical problem for you (you can't read an eBook and be on zoom at the same time) please indicate on the registration form so we can work to accommodate you.
3) You will receive access to the zoom for each of the sessions.
SUGGESTED OFFERINGS
In the past, people would walk across India and offer all their gold, home, and family just to receive a bit of dharma. The dharma is priceless and no amount of offerings can ever equal the value of the path to liberation. That said, there are costs involved in putting on an Empowerment both in-person and online as well as for us to help us make Rinpoche's teachings available to people. We have to transport all of Rinpoche's Holy Objects to Austria as well as procure things for this. We have created 3 offering levels to help make this affordable to a range of attendees as we must raise funds to cover the cost. The cost has been adjusted for the cost of living in various countries. Thank you for understanding so that we can make this accessible to our global family. If your ability to pay makes it difficult to attend this program, we will make every effort to make attendance possible. Please email chloe@dzokden.org to discuss a lower offering amount.

OFFERING DANA TO RINPOCHE
It's customary at the end of empowerment for students to make an offering of Dana to the guru. As this is an online event, you can make the offering of Dana to Rinpoche
 here.
ADDITIONAL QUESTIONS? email chloe@dzokden.org
Speaker
Khentrul Rinpoche

Non-Sectarian Master of Kalachakra

Khentrul Rinpoché Jamphel Lodrö is the founder and spiritual director of Dzokden. Rinpoche is the author of Unveiling Your Sacred Truth, The Great Middle Way: Clarifying the Jonang View of Other-Emptiness, A Happier Life, and The Hidden Treasure of the Profound Path.

Rinpoche spent the first 20 years of his life herding yak and chanting mantras on the plateaus of Tibet. Inspired by the bodhisattvas, he left his family to study in a variety of monasteries under the guidance of over twenty-five masters in all the Tibetan Buddhist traditions. Due to his non-sectarian approach, he earned himself the title of Rimé (unbiased) Master and was identified as the reincarnation of the famous Kalachakra Master Ngawang Chözin Gyatso. While at the core of his teachings is the recognition that there is great value in the diversity of all spiritual traditions found in this world; he focuses on the Jonang-Shambhala tradition. Kalachakra (wheel of time) teachings contain profound methods to harmonize our external environment with the inner world of body and mind, ultimately bringing about the golden age of peace and harmony (dzokden).