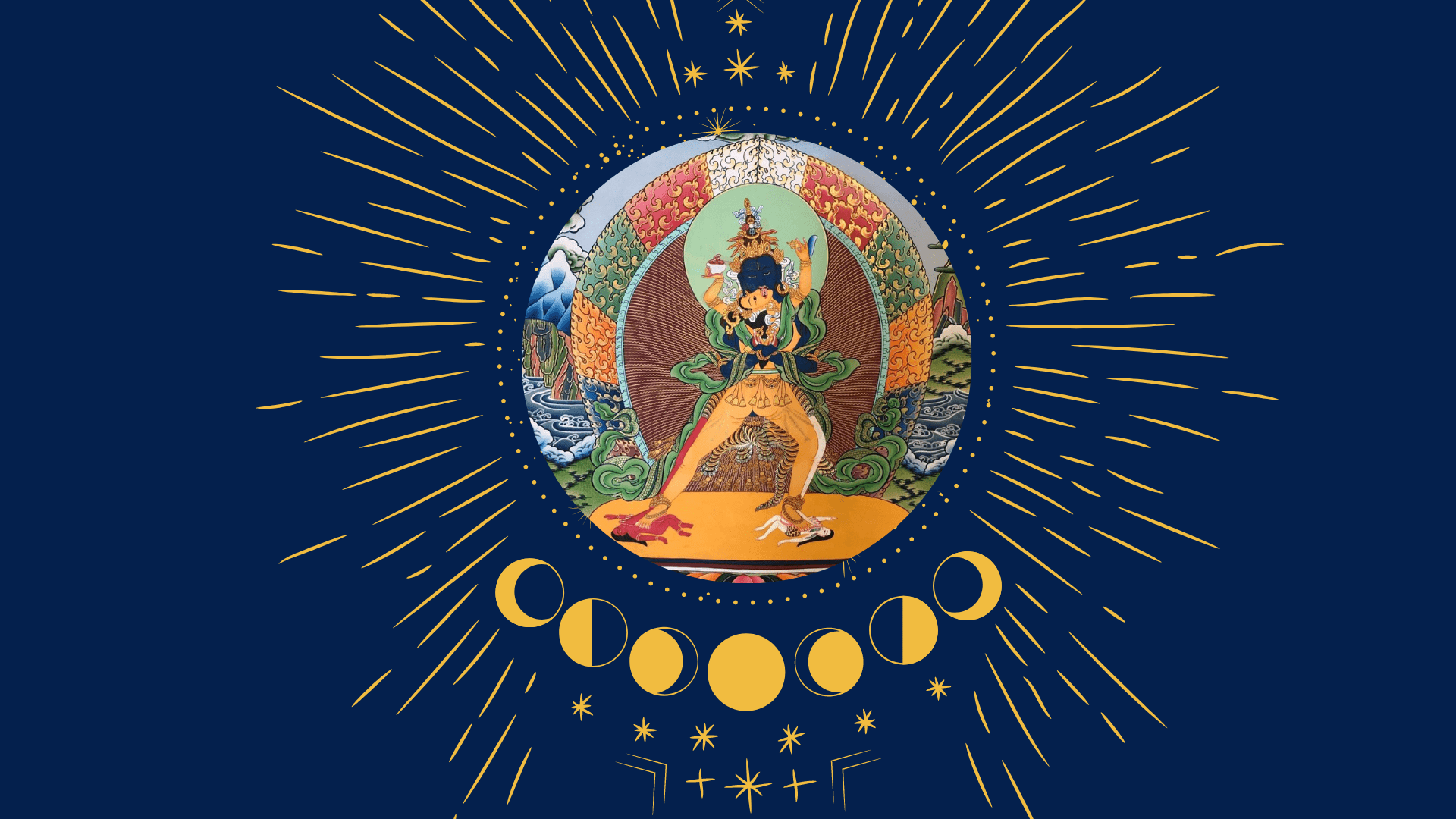 Online: Moon Cycle Mantra – New Moon Jonang-Kalachakra Ngondro Practice
Drop-In Every New Moon, 6.30 – 8:00 PM
(Vienna Time – CET / CEST)
"In this time of considerable conflict and strife, the practice of Kalachakra is said to be particularly effective. As these teachings arose from the spiritual realm of Shambhala, they are closely linked to the cultivation of peace and harmony. These teachings are exceedingly rare in this world and therefore it is very difficult to encounter them, let alone in a language that you can understand. While many people have taken Kalachakra empowerments from great masters such as His Holiness the Dalai Lama, materials for how to practice have been very limited." (Khentrul Rinpoche)
Join us on the new moon to put the Jonang-Kalachakra Ngondro into practice as an online Sangha! This is a good opportunity to become familiar with the unique practices of this extraordinary system. It is open for all levels of practitioners, there are no prerequisites.
SUGGESTED MATERIALS
This session practice is not a class. If you want to deepen your understanding of the Jonang-Kalachakra system, our community provides a.o. a series of books, videos, live and recorded teachings and retreats: learn.dzokden.org / www.dzokden.org
For the Kalachakra-Ngondro we recommend the following books:
THE PROFOUND PATH OF VAJRA YOGA
THE HIDDEN TREASURE OF THE PROFOUND PATH
GENEROSITY
Open to everyone (free admission). Donations for Dzokden Kalapa are welcome. If you would like to show your appreciation to Dzokden Kalapa for organizing this practice session, please support our work by making an offering here
Join Zoom Meeting
Meeting-ID: 826 3347 4240
https://us06web.zoom.us/j/82633474240
You can come to all monthly sessions or just drop-in.
Speakers
Kati Varadi

Practice Session Leader

She has been a student of Khentrul Rinpoche since 2014, going on some pilgrimages and teachings with him, as in Tibet in 2019. She has been a dedicated member of the Hungarian translation team for 3 years. Currently she is a dedicated volunteer in residence at Dzokden Kalapa.

Sabine Chöying Drolma

Practice Session Leader

Sabine Chöying Drolma, Psychotherapist, is one of the senior students of Khentrul Rinpoche. She dedicates herself to the Golden Age through serving the Dzokden community as one of the founders of Dzokden Kalapa and of the Dzokden-Wien Sangha, and as translator. She is also a Lu Jong teacher (Tibetan Healing Yoga) and co-founder of the Golden Age Mandala Obritz.