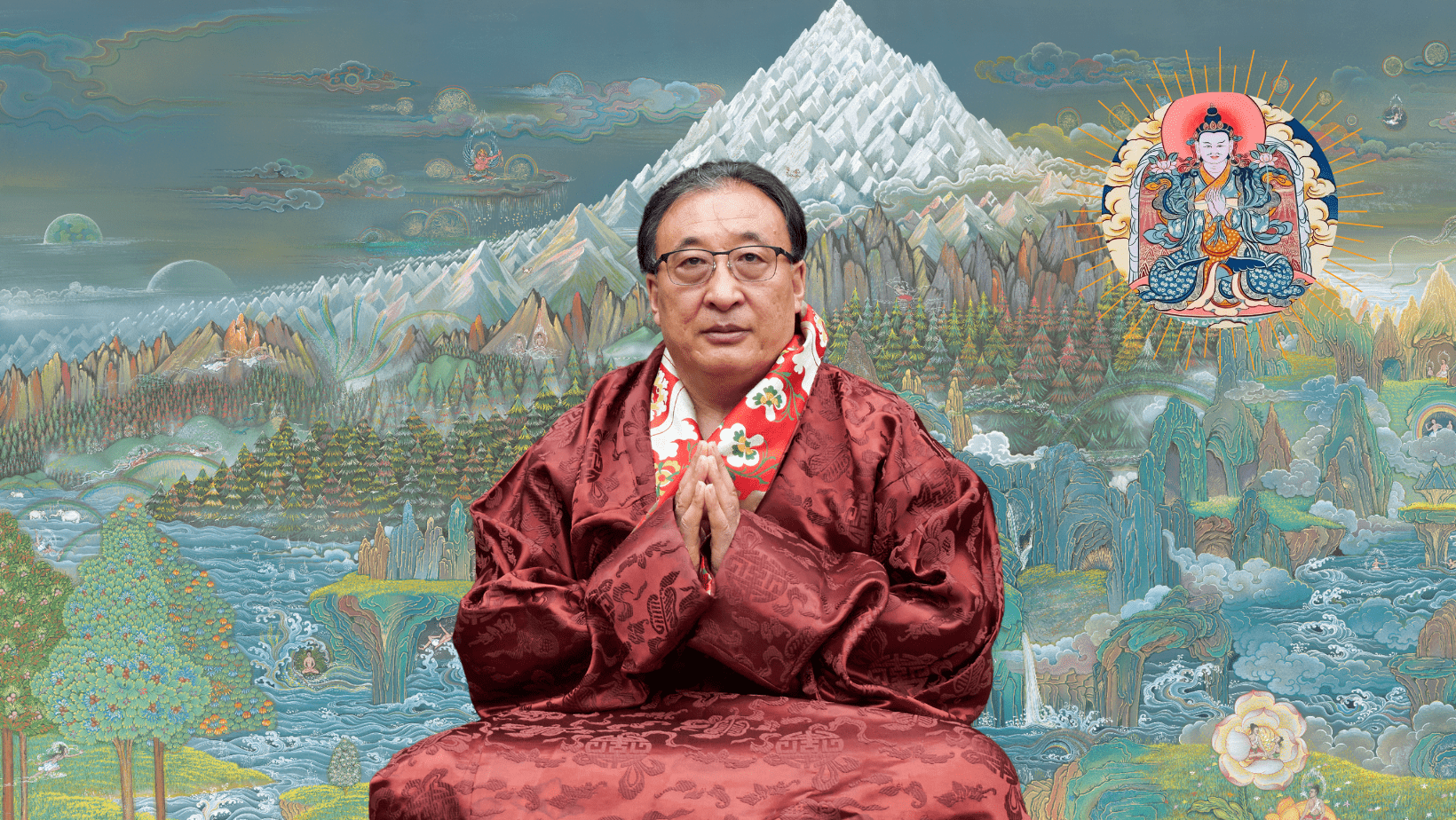 Online or In-Person: 8 Shambhala Dharma Kings Empowerment & Retreat with Khentrul Rinpoche
The Empowerment is on Saturday JULY 9. Translation is available for the weekend but is to be determined for the retreat.
We are incredibly fortunate that Rinpoche will reveal this mind terma and bestow for the first time the 8 Shambhala Dharma Kings in the Kalachakra Kalapa Center. This is a rare opportunity for establishing a direct connection with the Sublime realm of Shambhala in this incredibly short lineage direct from the Shambhala Kings to Khentrul Rinpoche. Khentrul Rinpoche will also give an introductory teaching and a Q&A session after the empowerment. The sessions after the empowerment will be guided by his senior students.
About the Kings of Shambhala
The Kalki Kings are the Dharma Kings of the Sublime Realm of Shambhala who were able to skillfully unite their entire realm through the Kalachakra teachings. Their effort went much more beyond only alleviating biased differences like races, conflicting religious approaches, classes etc. They helped propagate and make the Kalachakra teachings in such a way, that their realm transformed into a pure Bodhisattva realm, happy and peaceful, where spiritual practice flourishes. Differently from wordly kings which are focused on protecting and expanding their territories, the Kalkis are Kings of the dharma, bodhisattva beings who manifest as great leaders out of their compassion and wisdom.
"In general we say that the Kalki Kings are inseparable from the 8 great bodhisattvas and the 10 wrathful dakas. They are incredibly powerful. For me, the Shambhala kings are much more special because of their particular connection with our own world. The bodhisattvas and dakas possess a subtle body form, like a body of a being of the god realm, and so, only some individuals can connect with them. But the Shambhala Kings and Kalkis appeared in Shambhala as human beings, so that many people could benefit through connecting with them. And, of course, they manifest themselves not as an ordinary human being, but as an exceptional, extraordinary human being.
I have been dedicating myself intensively to prepare for this empowerment. I feel a strong connection with the Kalkis and I have no doubt that they are the greatest hope of our world for the manifestation of the Second Golden Age of Peace and Harmony." (Khentrul Rinpoche)

WHO IS THIS FOR or HOW TO PREPARE MYSELF?
There are no prerequisites at all. It is suitable for all levels of practitioners. If you want to prepare yourself, you can do the online course Introduction to the Ngöndro available at our learning center. If you are already practicing dharma, you may benefit from the oral commentaries Rinpoche gave about his Shambhala prayers; they can be accessed in his official Youtube Channel. For knowing more about Shambhala and the Kalki Kings, we suggest the book "The Realm of Shambhala" by Rinpoche.

Actual Schedule Coming shortly
HOW THE ONLINE EMPOWERMENT WILL WORK
1) Register for each attendee that will be receiving the empowerment. You will be added to the course on 
learn.dzokden.org
2) You must receive the empowerment online in real-time. We do not record the empowerments. Before the empowerment, you will receive information on some simple supplies you should get to help make the experience as authentic as possible. If you are not able to get them all don't worry. They are symbolic and you can still receive the empowerment. More important you must understand what is happening. Just attending an empowerment does not mean you receive it. You must know what is going on. To ensure everyone will receive the empowerment, Rinpoche will kindly make his instruction booklet available to you as an eBook so you can follow along so you know exactly what is happening. You are not allowed to share this program book with anyone else or give them access to the empowerment. This is private for your personal use. Rinpoche typically gives the eBook out the night before but if this is a technical problem for you (you can't read an eBook and be on zoom at the same time) please indicate on the registration form so we can work to accommodate you.
3) You will receive access to the zoom for each of the sessions.

SUGGESTED OFFERINGS
In the past, people would walk across India and offer all their gold, home, and family just to receive a bit of dharma. The dharma is priceless and no amount of offerings can ever equal the value of the path to liberation. That said, there are costs involved in putting on an Empowerment both in-person and online as well as for us to help us make Rinpoche's teachings available to people. We have to transport all of Rinpoche's Holy Objects to Austria as well as procure things for this. We have created 3 offering levels to help make this affordable to a range of attendees as we must raise funds to cover the cost. The cost has been adjusted for the cost of living in various countries. Thank you for understanding so that we can make this accessible to our global family. If your ability to pay makes it difficult to attend this program, we will make every effort to make attendance possible. Please email chloe@dzokden.org to discuss a lower offering amount.OFFERING DANA TORINPOCHE
Its customary at the end of empowerment for students to make an offering of Dana to the guru. As this is an online event, you can make the offering of Dana to Rinpoche here.ADDITIONAL QUESTIONS? email chloe@dzokden.org
Speaker
Khentrul Rinpoche

Maestro Jonang Kalachakra

Khentrul Rinpoché Jamphel Lodrö è il fondatore e direttore spirituale di Dzokden. Rinpoche è l'autore di Unveiling Your Sacred Truth, The Great Middle Way: Clarifying the Jonang View of Other-Emptiness, A Happier Life e The Hidden Treasure of the Profound Path.

Rinpoche trascorse i primi 20 anni della sua vita allevando yak e cantando mantra sugli altopiani del Tibet. Ispirato dai bodhisattva, lasciò la sua famiglia per studiare in una varietà di monasteri sotto la guida di oltre venticinque maestri di tutte le tradizionibuddiste tibetane. Grazie al suo approccio non settario, si guadagnò il titolo di MaestroRimé (imparziale) e fu identificato come la reincarnazione del famoso Maestro Kalachakra Ngawang Chözin Gyatso. Pur avendo sviluppato un profondo rispetto per tutte le autentiche tradizioni spirituali, per il suo percorso personale, ha scelto di concentrarsi sulla tradizione Jonang/Shambala. Gli insegnamenti del Kalachakra (ruota del tempo) contengono metodi profondi per armonizzare il nostro ambiente esterno con il mondo interiore del corpo e della mente, portando infine alla realizzazione dell'Età dell'Oro della pace e dell'armonia (Dzokden).